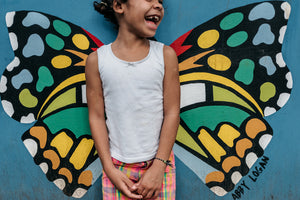 Breaking Cycles
280 Kids to School
We know education helps break cycles of exploitation! We support the education of our girls and then offer support as we are able to those within our community. The needs are many but we are steadfast in our belief that it matters - and it will always be worth it!
Support Education
Opportunities for Support
A Privilege to Love
10 Years Old
Our average age at intake is 10 years old but we have girls ages 2-20 in our care. Each girl comes to us from dark and difficult places and it is our privilege to walk with each one in hope & healing. We help them grab onto their untouchable worth.
Our Impact
When you shop with us you
Empower Women
Our Artisans are all mothers and by the work of their hands they provide for their families with honor. In our workshop they find refuge, support, and economic empowerment. Each bag carries this beautiful purpose.
SHOP OUR BAGS
Our newest hobo in the shop!
Meet the "Naomi" Hobo
What a sweet fabric for your next bag! The Naomi fabric blends cool colors into a stripped pattern that sings, "She is is created for more!" Scoop up this small batch style today!
Shop the Naomi
Let us travel with you!
Carry our story with you - no matter where you go! Our duffels are a fantastic options for a weekend trip or a gym bag. Complete with a trolley sleeve, they are beautiful and functional.
Shop Our Duffel Bags
Connect with us on social media @newhope.girls
Use the hashtags #newhopegirls #createdformore